CAST Hall of Fame Inductees
Induction into the Hall of Fame is an honor bestowed on graduates and friends of the College of Applied Science and Technology. The CAST Hall of Fame profiles the achievements of prominent graduates and friends to provide a source of inspiration for students, alumni, faculty and staff of the College and the academic community of Illinois State University.
All recipients will be inducted at a formal induction ceremony and will be honored on a permanent plaque in the College of Applied Science and Technology.
Dr. Margaret Balbach

Agriculture

Dr. Margaret (Peg) Balbach received a B.S. in biology from Emmanuel College and taught biology at Our Lady of the Elms College in Chicopee, Massachusetts. After two years, she received a fellowship to attend Radcliffe College at Harvard University and received an A.M. degree. For several years she was a professor at Emmanuel College in Boston. While there, she received a National Science Foundation faculty award to attend Harvard University for one year, where she studied geology and paleontology.

Balbach received her doctorate in botany in 1964 from the University of Illinois at Urbana-Champaign (UIUC). She taught at the University of Illinois Chicago before returning to teach at UIUC. There, she coordinated the introductory botany course, enrolling 1,000 students per year. Balbach later taught botany and biology at Eastern Illinois University. Changing career direction in 1972, she expanded her knowledge of horticulture, completing numerous graduate courses at UIUC.

In 1973, Balbach joined Illinois State University as a faculty member in the Department of Agriculture. During her time at ISU, she was the sole professor of horticulture in the department and taught over a dozen different courses. Her expertise included genetics, plant identification, landscape design, plant propagation, greenhouse management, turfgrass management, landscape management, and floral design. Balbach founded the horticulture-business program, in which horticulture students minor in business to be better prepared for prospective employers. Prior to her retirement in 1994, she attained the rank of full professor of plant and soil science.

She also assisted other departments, teaching both Park Planning and Park Management, for example. She collaborated with the Department of Criminal Justice Sciences to design and co-teach a summer rehabilitation program for women on parole or probation. In addition, she taught Greenhouse Management to inmates at the Illinois State Prison at Pontiac and Grounds Management at the women's prison in Dwight.

Balbach wrote a weekly column on horticulture topics for The Pantagraph from 1976 until 2006, followed by several years on the internet at PegBalbach.com.

She was a charter member of the Garden Writers of America and a Certified Professional Horticulturalist through the American Society for Horticultural Science. She was also a Champaign County Master Naturalist.

Balbach passed away in 2015. She is survived by her husband, Harold, of Champaign.

Marc Smith

BS 1991, Criminal Justice Sciences

Marc D. Smith was appointed by Gov. JB Pritzker to serve as the director of the Illinois Department of Children and Family Services (IDCFS) on April 15, 2019, and was confirmed as director by the Illinois State Senate in June 2021. Serving as a member of Pritzker's Human Services Cabinet, Smith is the leading voice of the Illinois Child Welfare System.

Prior to his appointment, Smith served as the Executive Vice President of Foster Care and Intact Services at Aunt Martha's Health and Wellness, Illinois' largest provider of medical and social services to families in crisis since 2009. In that role, he led the foster care and intact family services programs and collaborated with child welfare leaders, professionals, and other stakeholders to implement family-centered systems and practices that protected and supported vulnerable children and families.

Prior to serving Aunt Martha's, Smith worked for more than two decades as a social worker, trainer, and leader in child welfare. From 2004 to 2009, he served as a program administrator and recovery coach at Treatment Alternatives for Safe Communities (TASC), where he managed the child welfare division. Smith also worked for Aurora University as a field educator, trainer, and curriculum developer. Additionally, he served on the team that wrote the first version of the IDCFS title V-E foundational training for IDCFS child welfare professionals. From 1993 to 2000, Smith worked as a public service administrator for the IDCFS.

Smith has served on numerous boards including the Illinois CASA board, where he served as vice president. He also worked on committees and work groups helping to shape policies and inform best practices in leadership and in the field. He has also led the development of program models that have increased the likelihood of family reunification, increased adoptions, and significantly improved the ability of workers and agencies to connect people with substance abuse treatment, mental health care, and other supportive services.

Smith is a licensed clinical social worker and Illinois certified trainer. He earned a Bachelor of Science degree in criminal justice from Illinois State University in 1991. He received his Master of Social Work degree from the University of Illinois Chicago in 1997. Recently, the Smith completed an Executive Scholar Certificate from Kellogg Northwestern School of Business in 2022.

Smith is married to Jennifer Smith '92, an early childhood special education teacher, and is a father of two children, Jasmine Tinnermeir (husband Arron) and Julian Smith. He and his family currently reside in Joliet.

Dr. Jan Murphy

Family and Consumer Sciences

Dr. Jan Murphy retired from Illinois State University in 2020 after a career which spanned over 30 years at the department, college, and university levels. She joined the University in 1986 as an assistant professor of family and consumer sciences, becoming a full professor in 1995. She served in many administrative roles at Illinois State including chair of the Department of Family and Consumer Sciences, assistant dean in CAST, associate dean in CAST, interim dean of CAST, associate provost for over 10 years, interim vice president for Academic Affairs and provost, and vice president for Academic Affairs and provost.

During her administrative career, Murphy helped develop Educating Illinois, the University's Strategic Plan, established the American Democracy Project program, and coordinated the University's Higher Learning Commission (HLC) accreditation during a comprehensive reaccreditation process. She also designed and coordinated the University's comprehensive program review process.

Murphy received her B.S. in nutrition and dietetics (1982), her M.S. in human nutrition (1983), and her Ph.D. in nutrition research (1986) from the University of Nebraska-Lincoln. She has numerous publications and funded research grants in several areas of nutrition research. She has served as a peer reviewer for the HLC since 2004, currently serving on the HLC Institutional Actions Council. Murphy has won numerous awards for outstanding teaching, research, and service, including the Phyllis Memken Outstanding Teacher Award (2014) and the University Distinguished Service Award (2010).

A native of South Dakota, Murphy lives in Bloomington with her husband, Scott. Their son, Myles, is a CPA living in Chicago, and their daughter, Maggie, and her husband live in Missouri where she works in research and development for Purina Foods.

Cheryl West

BS 1974, Health Sciences

Cheryl West earned a Bachelor of Science from Illinois State in 1974. She was in the second graduating class of the medical record administration program, later changed to health information management. West started her career as the director of medical records at OSF Saint James Hospital in Pontiac (1974-1977). She then went to Brokaw Hospital (now Carle BroMenn) in Normal as a coder/abstractor before specializing in cancer registry. In 1999, her job transitioned to the newly formed Community Cancer Center. She became cancer program coordinator for BroMenn and OSF St. Joseph Medical Center. She led each hospital to multiple outstanding program accreditations through the American College of Surgeons Cancer Accreditation Program. She also worked as part-time cancer registrar for Gibson Area Hospital and Eureka Hospital. Following her retirement in 2014 until 2019, she became an Independent Contractor reporting cancer cases to the Illinois State Cancer Registry for two hospitals and four ambulatory surgical centers.

West received her Registered Health Information Administrator (RHIA) credentials in 1974 and Certified Tumor Registrar (CTR) credentials in 1993.

She maintained a relationship with Illinois State's Health Informatics Management (HIM) program by supervising clinical practice students and serving as a guest lecturer, as a speaker at the Medical Record Society, as a member of the advisory council, and as a past Health Sciences Alumni of the Year. She was a lecturer for the program in 1978-1979 after a new hire backed out of the job late in the summer.

West was a member of various professional organization but was most active in the Cancer Registrars of Illinois, serving on their board for many years in many capacities including as president, program chair, and education chair. She has presented programs on cancer registry to professional and community groups.

Mentoring was always important to West. Besides working with HIM students, she supervised pre-med interns from Illinois Wesleyan University and mentored new cancer registrars. In her retirement, she is a mentor to new master gardeners.

West has been married to her husband, Dale, for 49 years and has two married sons and four grandchildren. She is active in her church, Bible Study Fellowship, a trustee on the Village of Arrowsmith board, and is a master gardener. She likes to spend time with her grandchildren, travel, read, walk, and work in her yard.

Derek Krut

BS 2001, Information Technology

Derek Krut received his undergraduate degree in applied computer science after serving four years and nine months in the United States Marine Corp as a cryptographic electronic repairman. He started his college career at Illinois State in 1998 and began his career in the IT profession through the ISU internship program as a systems analyst at State Farm in 2000. After graduating from ISU in 2001, Krut continued at State Farm with a successful career as a software developer. He continued to learn new platforms and technologies, from his early career in mainframe development to web and cloud solutions, with a focus on full stack development. Krut began his leadership path at State Farm in 2014 as an IT architect, leading efforts to design enterprise solutions for all State Farm mobile apps and corresponding integration services. In 2018, he switched focus and became one of the technology managers for the award-winning State Farm mobile app. To continue challenging himself and his passion for application design and development, he became a staff technology engineer in 2022, focusing on resolving complex issues and setting technical direction across customer facing digital solutions.

Krut understands the value Illinois State provides their students and is passionate about giving back. He has been one of the ISU internship campus recruiters for State Farm for more than six years, he mentors ISU students, and he partners with ISU on behalf of State Farm to sponsor the annual Mobile Application Development contest.

While a student at Illinois State, Krut met his future wife of 18 years, Elizabeth, and they have two children: Olivia, 15, and Kaden, 11.

Michael Clark

BS 1988, Kinesiology and Recreation

Michael Clark received his undergraduate degree in park and recreation administration in 1987 and earned his master's in business administration from the Lake Forest Graduate School of Management. Clark served as Park and Recreation Student Society president while attending ISU and was an active staff member with Campus Recreation.

Clark has worked with various park districts for the past 34 years and is currently the executive director of the Palatine Park District. He is an active member in both national and state recreation associations, serving as president of the Illinois Park and Recreation Association (IPRA) in 2001. He has been recognized by his colleagues, being awarded the Fellow Award, Professional of the Year, and most recently, the Robert M. Artz Lifetime Achievement Award. Clark served as chair of the Illinois Park and Recreation Foundation Board of Trustees and built a scholarship fund to assist students and young professionals with professional development opportunities in the public park and recreation industry in Illinois. Clark has presented at numerous national, regional, and state conferences and visited ISU to speak to students about the industry, internships, and networking.

Clark has also served on several boards and committees with the National Recreation and Park Association (NRPA) including president of the American Park and Recreation Society, and he is also an American Academy for Park and Recreation Administration inductee. Clark has led two agencies to earn state accreditation status and, through work with local park foundations and park districts, he has secured over $3 million in national and state grant funding for park and open space acquisition and development.

Clark resides in Batavia with his wife Donna of 30 years. They have three sons, Patrick (28), Andrew (25), and Brian (20), and they enjoy golf, live music, and spending time with family and friends.

Brig. Gen. Michelle Letcher

BA 1995, Military Science

Brig. Gen. Michelle M. T. Letcher is a native of Oak Forest and was commissioned in the Air Defense Artillery branch via the Reserve Officer Training Corps in 1995. She was branch detailed and became an ordnance officer in 1997. She holds a Bachelor of Arts degree in social work from Illinois State, and a Master of Science in human services and counseling from the State University of New York College, a master's in advanced military studies from the Command and General Staff College, and a Master of Arts in national security and strategic studies from Kansas State University. Letcher is currently serving as chief of staff at Army Futures Command, Austin, Texas.

Her previous assignments include: Commandant, United States Army Ordnance School, United States Army Sustainment Center of Excellence in Fort Lee, Virginia; commander, Joint Munitions Command and the Joint Munitions and Lethality, Life Cycle Management Command in Rock Island; commander, 16th Sustainment Brigade in Baumholder, Germany; commander, 18th Combat Sustainment Support Battalion in Grafenwoehr, Germany, where she deployed the unit to combat operations in Afghanistan during Operation Enduring Freedom 2012-2013; commander, B Company, 26th Forward Support Battalion, 3rd Infantry Division, Fort Stewart, Georgia, where she deployed the company to Iraq during combat operations in Operation Iraqi Freedom 1; and launcher platoon leader, 1-43 Air Defense Artillery Battalion, Osan Air Base, Korea.

Her key staff assignments include: Executive officer to the commanding general, Army Materiel Command, Redstone Arsenal, Alabama; deputy support operations officer, 13th Sustainment Command (Expeditionary), Fort Hood, Texas; lieutenant colonel assignment officer, Human Resources Command, Fort Knox, Kentucky; support operations officer, 189th Combat Sustainment Support Battalion, Fort Bragg, North Carolina; sustainment planner, 18th Airborne Corps and Multi-National Corps-Iraq, Baghdad, Iraq; observer/controller for the BCT S4 and BSB staff at the National Training Center, Fort Irwin, California; Battalion S-3, 26th Forward Support Battalion, 3rd Infantry Division and Battalion S-4 and maintenance control officer, 710th Main Support Battalion, 10th Mountain Division, Fort Drum, New York.

Her military education includes Air Defense Artillery Basic Officer Leader course, Ordnance Basic Munitions Management Officer course, Combined Logistics Officer Advanced course, Command and General Staff Officer course, the School of Advanced Military Studies, Senior Service College Fellowship at the University of Texas at Austin and the Joint and Combined Warfighting School. Letcher's military awards include the Legion of Merit (three Bronze Oak Leaf Clusters), Bronze Star Medal (two Bronze Oak Leaf Clusters) and the Meritorious Service Medal (Silver Oak Leaf Cluster).

Letcher is married to Col. Kenneth Letcher, and they have three sons: Thomas Allen (17), Tyler (14), and Trevor (11).

Russ Pande

BS 1996, Technology

A well-rounded builder, Russ Pande, vice president of operations for Pepper Construction Company of Wisconsin, has taken on multiple roles throughout his 25 years in the construction industry, including project management, operations management, and business development. He has also worked across multiple markets with projects ranging from site development, healthcare, industrial, and residential to multifamily, student housing, senior living, and mixed use. He has a particular appreciation for mixed use and has completed site development, new construction, mall renovations, prototype stores, mixed-use facilities and reconfigurations while enjoying the speed often required for this type of construction and the dynamic challenges it represents. The common thread running throughout Pande's career has been that he takes his work very personally and employs an integrated approach to client satisfaction, customer service, and team building.

Pande started his career in 1997, working for Matocha Associates in Oakbrook Terrace before joining Pepper Construction in 2000. He has led several high-profile projects such as Deer Park Town Center, The Glen, Eden Prairie Center, Lincolnshire Commons, Dekalb Northland Plaza, Northbrook Court, and the Corners of Brookfield in Wisconsin. Other notable clients have included Humana, Rush Prudential, Ty Inc., American Campus Communities, the Green Bay Packers, Illinois State University, and many more.

In addition to his work, Pande is dedicated to improving the construction industry and supporting young professionals as they build their careers. He has served on the program committee and board of directors for the International Council of Shopping Centers Next Generation Chicago and is a founding member and former chair of the Association of General Contractor's Construction Leadership Council in the Chicago chapter. Pande is a loyal Redbird and the former chair and a long-standing executive on the Illinois State University Construction Management Advisory Board. In addition, he actively recruits students to participate in Pepper intern programs and helps to guide recent graduates toward employment opportunities while serving as a mentor.

Pande is also active in coaching children's sports programs for basketball, baseball, and softball. He relocated to Wisconsin with his family in 2018 to help establish Pepper's newest office and has become a board member for Whitefish Bay Junior Dukes Fastpitch Softball.
Past Recipients
William Graff

BS 1981, Agriculture

Kraig Kline

BS 1999; MS 2003, Criminal Justice Sciences

Sally Arnett-Hartwick

BS 1997, Family and Consumer Sciences

Merle Essex

BS 1978, Health Sciences

Jason Potts

BS 1999, Information Technology

Sarah Hallberg

BS 1994; MS 1996, Kinesiology and Recreation

Jeannene O'Neil

BS 1984, Military Science

Dan McCluskey

BS 1972; MS 1976, Technology
Keith Hesterberg

BS 1993, Agriculture

Alexander Holsinger

BS 1993, Criminal Justice Sciences

Sandy Shelton

BS 1990, Family and Consumer Sciences

Todd Macumber

BS 1995, Health Sciences

Mark Cyphert

BS 1981, Information Technology

Tony Haager

BS 1987, Military Science

Steve Menken

BS 1994 MS 2011, Technology
Arthur Goetsch

BS 1979, Agriculture

Carla Barnes

BS 1993, Criminal Justice Sciences

Lois Jett

Family and Consumer Sciences

Bob Miller

BS 1978, Health Sciences

Craig Westerhold

BS 1979, Information Technology

Diane Dahlmann

MS 1977, Kinesiology and Recreation

Stacy M. Seaworth

BS 1994, Military Science

William F. Burfeind IV

BS 1995, Technology
Don Meyer

BS 1977, Agriculture

Roxanne Castleman

BS 1978, Criminal Justice Sciences

Karen Stephens

BS 1976, MS 1980, Family and Consumer Sciences

Bob Aherin

BS 1971, MS 1973, Health Sciences

Kendal Vroman

BS 1993, Information Technology

René Revis Shingles

MS 1986, Kinesiology and Recreation

Tim O'Neil

BS 1985, Military Science

Michael Thomas

BS 1985, Technology
Archer Daniels Midland Company

Corporate Inductee

Dennis Murphy

BS 1972, Agriculture

Keith Kambic

BS 1986, Criminal Justice Sciences

Deborah Davis

BS 1990, Family and Consumer Sciences

Matthew Schuller

BS 1986, Health Sciences

Matt Johanson

BS 1989, Information Technology

Melinda Fischer

BS 1972, MS 1975, Kinesiology and Recreation

Mark Mallon

BS 1989, Military Sciences

Linda Rae Markert

MS 1978, Technology
Marcos Fernandez

BS 1980, Agriculture

Louis Bladel III

BS 1989, Criminal Justice Sciences

BJ Friedman

BS 1975, Family and Consumer Sciences

Alan Janssen

BS 1975, Health Sciences

Amy Fowler Stadler

BS 1986, Information Technology

Mike Bucek

BS 1982, Kinesiology and Recreation

Steve Ware

BS 1984, Military Sciences

Thomas Schildgen

BS 1977, MS 1980, Technology

Illinois Soybean Association

Corporate Inductee
David E. Baker

BS 1970, MS 1974, Agriculture

Tami Haukedahl

BS 1980, Criminal Justice Sciences

Pam Womack

BS 1988, Family and Consumer Sciences

Kimberly A. Bucek

BS 1978, Health Sciences

Kathryn J. Hayley

BS 1979, Information Technology

Carolyn Mallaney Nagle

BS 1975, Kinesiology and Recreation

Michael Haerr

BS 1985, Military Sciences

Rick Schildgen

BS 1978, Technology
Roger Boerma

BS 1968, Agriculture

Peter Lynch

BS 1981, Criminal Justice Sciences

Lisa Christman Shanley

MS 1984, Family and Consumer Sciences

Rose Stadel

BS 2001, Health Sciences

Jeff Ricketts

BS 1983, Information Technology

Barry Reilly

BS 1989, Kinesiology and Recreation

Colonel Allen D. Shreffler

BS 1989, Military Sciences

Robert Shaw

BS 1982, Technology
Douglass G. Reeves

BS 1969, Agriculture

James Knodell

BS 1978, Criminal Justice Sciences

Arlene M. Hosea

BS 1982, MS 1984, Family and Consumer Sciences

Margaret (Guidarelli) Pelletier

BS 1979, Health Sciences

Lance Rogers

BS 1991, Information Technology

Stan L. Shingles

BS 1982, MS 1988, Kinesiology and Recreation

Colonel Craig A. Osborne

BS 1989, Military Sciences

William P. LaBounty

MS 1974, Technology
W. Lyle Roberts, Jr.

BS 1970, Agriculture

Mike Emery

BS 2003, Criminal Justice Sciences

Connie Mueller

MS 1984, Family and Consumer Sciences

Mark Loafman

BS 1982, Health Sciences

Barb O'Malley

BS 1984, Information Technology

Jeff Sunderlin

BS 1974, MS 1977, Kinesiology and Recreation

Kelly Donna

BS 1991, Military Sciences

Jerold Wright

BS 1962, MS 1966, Technology
Ray Brownfield

1965 Agriculture

Andrew Velasquez III

1993 Criminal Justice Sciences

Charlotte Talkington

1961 Family and Consumer Sciences

Jenny Pan-Yun Ting

1975 Health Sciences

Peter Tapling

1982 Information Technology

Darlene Kluka

1972 Kinesiology and Recreation

Mark Jackson

1987 Military Sciences

J. Michael Adams

1969 Technology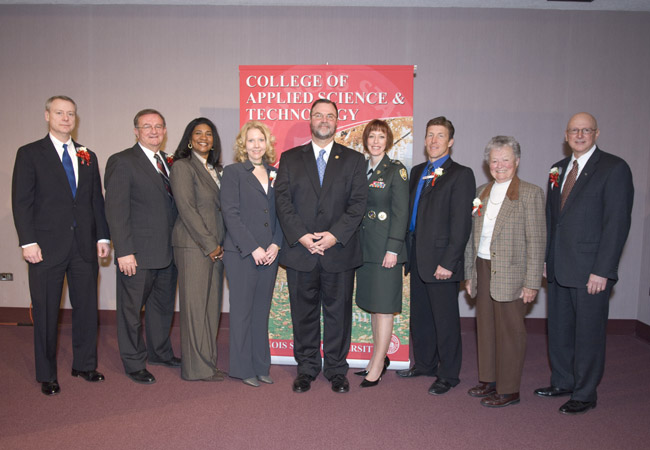 Dan Kelley

1970 Agriculture

Peter Brust

1982 Criminal Justice Sciences

Donsia Strong Hill

1983 Family and Consumer Sciences

Dr. Jennifer Jean Wood Ives

1997 Health Sciences

Brad Brown

1983 Information Technology

Dr. Betty Keough

1952 Kinesiology and Recreation

Colonel Yvette Nonte

1983 Military Sciences

Donald Braasch

1983 Technology